WhatsApp is down
We've seen it many times, even giants such as WhatsApp can crash. There are several ways to find out if the email application is down:
You can not receive or send messages. In particular, a clock is waiting next to the messages you want to send.
You can not look at the date and time of the last connection of your WhatsApp contacts (be careful though as some users may enable this option)
You receive a "local connection timeout" error message
If these errors also affect other users, it means that the application suffers a failure that can affect a large number of users, if not all.
If it is not a totally general breakdown, you can test these solutions:
Check if your 3G or 4G and WiFi signals are disconnected. Try to reset them.
Check that you have accepted all the permissions of the application.
Turn off and on your phone
If none of this works, the application is down. So you have to take your trouble and use another IM application.
WhatsApp servers do not work
Unlock WhatsApp with the help of a VPN
In some situations, WhatsApp stops working for a few minutes or a few hours simultaneously in different countries around the world.
It is sometimes possible to take advantage of servers in other countries via a VPN , to continue using WhatsApp if the problem is limited to the country where you are.
Problems with configuring and using WhatsApp
Problems installing WhatsApp on your phone
To download WhatsApp, you must have a smartphone running at least Android 2.3.3. To check the version of your phone, go to Settings> About Phone> Android Version .
Also, make sure you have enough space to install the application. Attention, to install WhatsApp, it is also necessary to have a telephone number.
If during installation, you have some problems with the Play Store, you can erase the data: Settings> Applications> Google Play Store> Storage> Erase Data .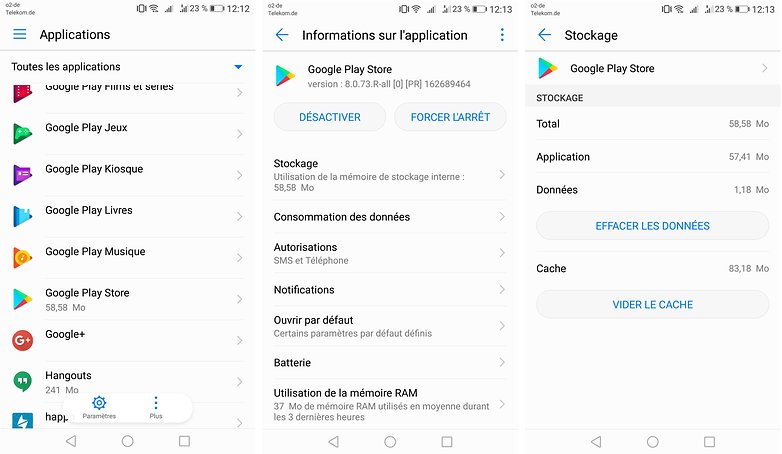 If you read an error message from the Play Store, I suggest you read the following article:
Install Whatsapp on a tablet without Root or 3G
If you have a tablet that only works with WiFi, you can not normally install WhatsApp, but in fact a very simple trick allows you to do it.
I also remind you that since the arrival of WhatsApp Web you can use the application directly on the screen of your PC or tablet and chat comfortably with your friends. I recommend using this web version only if you have a good WIFI connection.
I do not receive the WhatsApp activation code
During the installation of the application, WhatsApp requires entering a phone number to send a verification code. All accounts in this service are connected to a number. WhatsApp then sends a message to the phone number that you have communicated with an activation code that allows you to launch the service for good.
Be careful to indicate the code of your country. As a reminder, this is for France +33 and not 0033. The latest versions of the application generally know recognize your position and add the code automatically. But stay alert, as errors occur.
Please note that if you do not receive the SMS, WhatsApp will call you to send you a new activation code.
Connection problems
Most of the time, this problem depends on your internet connection or the WhatsApp connection to which it has happened several times to crash. If you can not send a message, you have several options:
The simplest and most common solution: restart the phone.
You may also need to install the latest version of the application because yours is too dated (in this case, check in the Google Play Store to check your updates).
Check your Internet connection, Wifi or 3G (via Settings, Connection and Network).
Ensure that no Task Killer has been activated (a third-party application that will help you save energy by closing applications).
Clear the cache (in Settings> Applications> WhatsApp)
Clear data (same path as before)
Finally, extreme solution: remove the application (same path) and reinstall it.
Feel free to check out our article:  How to solve problems with an Android application?
I can not block unwanted contacts
WhatsApp gives you the ability to block contacts. This is a necessary option if you accidentally shared your phone number with your entire Twitter directory (it happened to "a friend"). To place unwanted contacts, simply go to  Settings> Account> Privacy> Blocked Contacts , and click the Add New button   to add contacts to your blocked contacts list from your address book.
Problems during calls
Phone calls are often unstable or do you hear echo? Most likely, there is a problem with your connection, so I recommend that you restart your smartphone and try again. If you can not talk to the person at the other end of the line, check that the smartphone volume is at maximum, and then try to make the call via a WIFI connection to see if anything changes.
I can not hide the time of my last connection
You can, if you wish, hide the time and date of your last connection to the WhatsApp application. To do this, go to  Settings> My Account> Privacy.
Then choose the option you want.