In addition to the leaks and rumors that draw the portrait of the range of Samsung Galaxy S20, renderings considered official have just been unveiled. The opportunity to take stock of the next competitors of the iPhone 11.
In more than two weeks, Samsung will launch in San Francisco in the United States, its new flagships  with the Galaxy S20, Galaxy S20 + and Galaxy S20 Ultra. In the meantime, as always, leaks in terms of the characteristics and design of the mobiles become more frequent over the weeks. Yesterday, it was Ishan Agarwal, an Indian blogger renowned for his revelations, who provided the 91Mobiles site  with images representing the mobiles in the range. These would be their official renditions.
These images have the advantage of revealing smartphones from all angles. We can see that the mobiles will have a screen with rounded edges , called 2.5D. This means that only the surface of the protective glass is rounded. In previous models, however, there was a real 3D screen, that is to say with completely curved borders. Ultimately, mobile screens should prove more robust than their predecessors. We also notice in the photos that all the buttons are grouped on the right side of the mobile.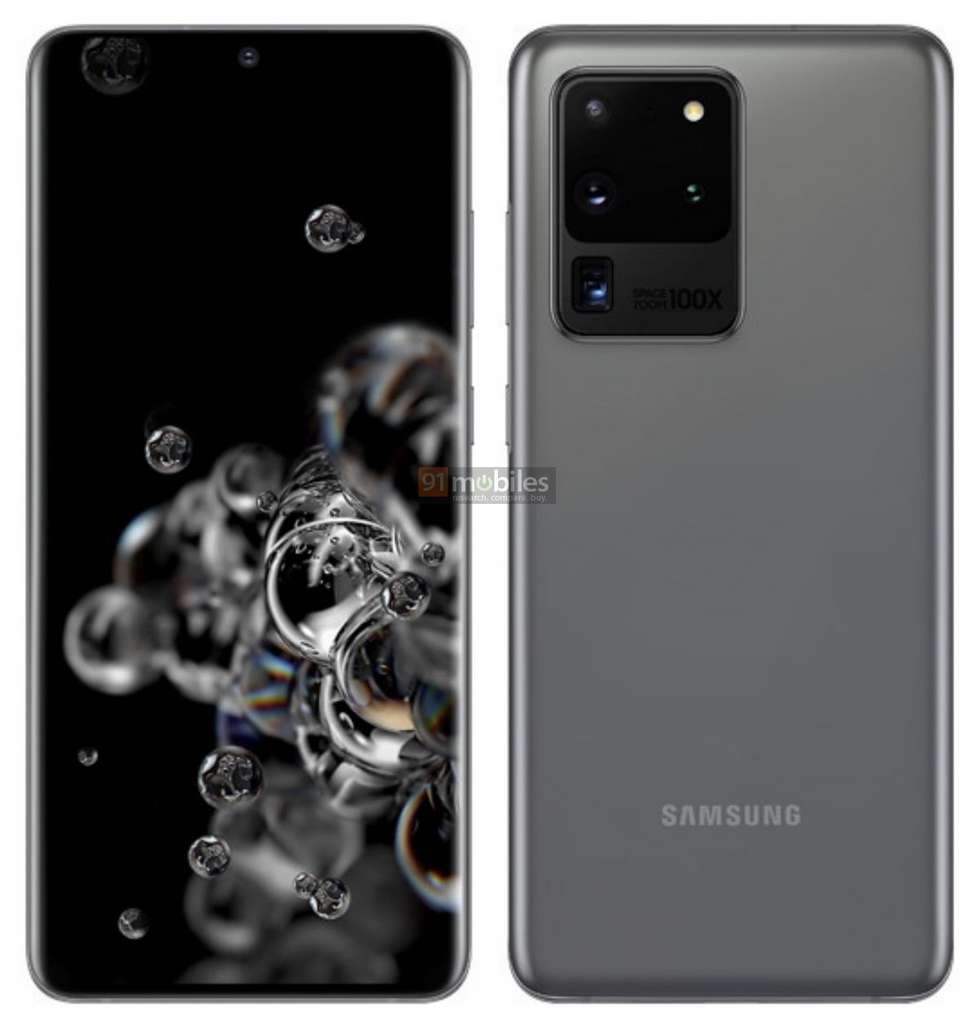 S20 Ultra: the flagship of the range
In terms of features, the latest leaks reveal that the Samsung Galaxy S20 will have a 6.2-inch Amoled screen displaying 3,200 x 1,440 pixels and a 20: 9 ratio. The maximum refresh rate will be 120 Hz . For the S20 +, the screen expands to 6.7 inches. As for the Ultra model, in other words, the most premium model in the range, it would be equipped with a 6.9-inch screen.
The entire range should be powered by an Exynos 990 manufacturer's SoC , or the Snapdragon 865 depending on the market. There are 12 to 16 GB of RAM and 128 to a maximum of 512 GB for internal storage, with an extension via microSD to 1 TB. Battery side , the models would have capacities of 4,000, 4,500 and 5000 mAh.
On the back , we can see that the Samsung Galaxy S20 will include a rectangular photo module equipped with three sensors assisted by a LED flash . We are talking about a 12-megapixel main sensor, a 64-megapixel telephoto lens and an ultra-wide 12-megapixel camera. For the S20 +, we would also find a 3D sensor. Finally for the Ultra , Samsung would have gone even further, with a peak sensor at 108 megapixels associated with a 48 megapixel telephoto lens, a 3D sensor, n wide-angle of 12 megapixels and a 10x optical zoom. 
At the budget level , the bar is set high. Thus the entry ticket for the Galaxy S20 would be 899 euros, with a 5G variant at 999 euros. The Samsung Galaxy S20 + 5G could be sold from 1,099 euros. Finally, the Ultra should exceed 1,300 euros.