Star of the 2000s, the Razr returns in force in January 2020 with a model equipped with a folding screen. The design remains the same as his big brother, but his price could scare away 1,500 dollars. 
Even if in Europe, the brand is not very widespread, in the United States, Motorola remains a brand that matters. Especially when she decides to combine a legendary model with a highly anticipated technology, the folding screen. Announced for Christmas, the new Razr will finally arrive in January. After several weeks, Motorola has finally formalized the arrival and we discover the design and configuration.
Clearly, the US manufacturer has taken the same design as its flagship model, except that the keyboard leaves room for the second part of the screen. Unlike Huawei with the Mate X and Samsung with its Fold, Motorola is not trying to create an XXL poster surface but to play on the compactness of his phone. Exactly as in the 90s and 2000s with these clamshell models. Folded, it is only 11 mm thick and about 7 cm wide and 9 cm long. It will not deform the pockets. Moreover, when unfolded, it is as big as a current phone with 17 cm in height.
Mid-range equipment
And if you do not want to open it, Motorola has thought of adding a small screen on the hull. This allows to display information like SMS and email notifications, time and weather. For the rest, we see that run under  Android 9, and the basic version is equipped with a processor midrange Qualcomm Snapdragon 710, 6GB of RAM and 128 GB of storage. This is not exceptional but it should be enough to enjoy the device.
Side photo, a single sensor of 16 megapixels on the hull, and another for selfies of 5 megapixels. We will wait to test it for confirmation, but it may discourage some while the competition focuses mainly on the photo. It will also be necessary to see if the device is simple to trigger with the closed telephone, or if this aspect is binding. Clearly, the ergonomics will be taken into account when testing.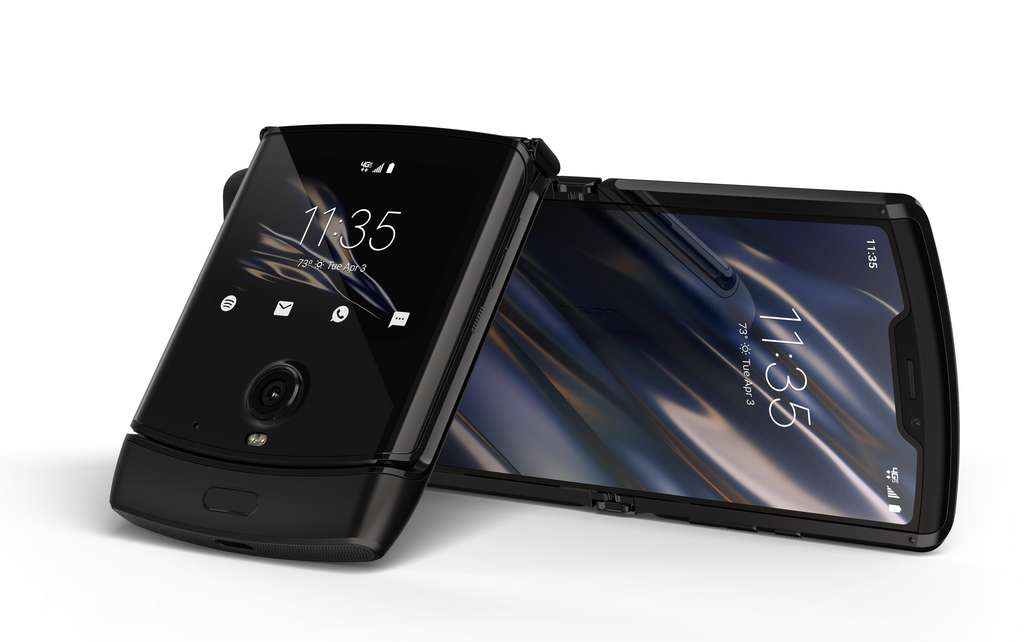 The availability of Razr will be limited
For the rest, there is a fingerprint reader, a 15 W fast charger, Bluetooth and NFC chips for contactless payment and connection with connected objects, or an eSIM card, a kind of virtual SIM card, directly soldered into the phone. This means that in France, its operation will be limited to Orange, the only compatible operator …
Another downside, the price since we are talking about 1,500 dollars! This is the price for a foldable screen smartphone and it will be a serious drag on the purchase. Especially if the competition, Samsung in particular, plans to launch a flapper model with a piece of richer equipment and at a cheaper price. But the Razr remains a myth and Motorola is also relying on the past of his phone.