Designed for professionals, these virtual reality gloves should be available in the second half of 2020. For each finger, they incorporate nine electrodes to give the sensation of touch.
Teslasuit is a startup known for creating a haptic costume, designed to be used with virtual reality. The firm launched its project on Kickstarter in 2016, before canceling and then presenting it at the CES electronics show in 2018. Teslasuit has just announced the Teslasuit Glove, haptic gloves to complete its costume, and it plans to present them at CES from January 7 to 10, 2020.
This pair of gloves for virtual reality can be used independently or connected to the Teslasuit suit via  Wi-Fi . Gloves contain a  3×3 " haptic display " on each finger, ie nine electrodes to give the sensation of touching a virtual object. They are surmounted by an exoskeleton, which creates resistance and vibrations to simulate the handling of objects.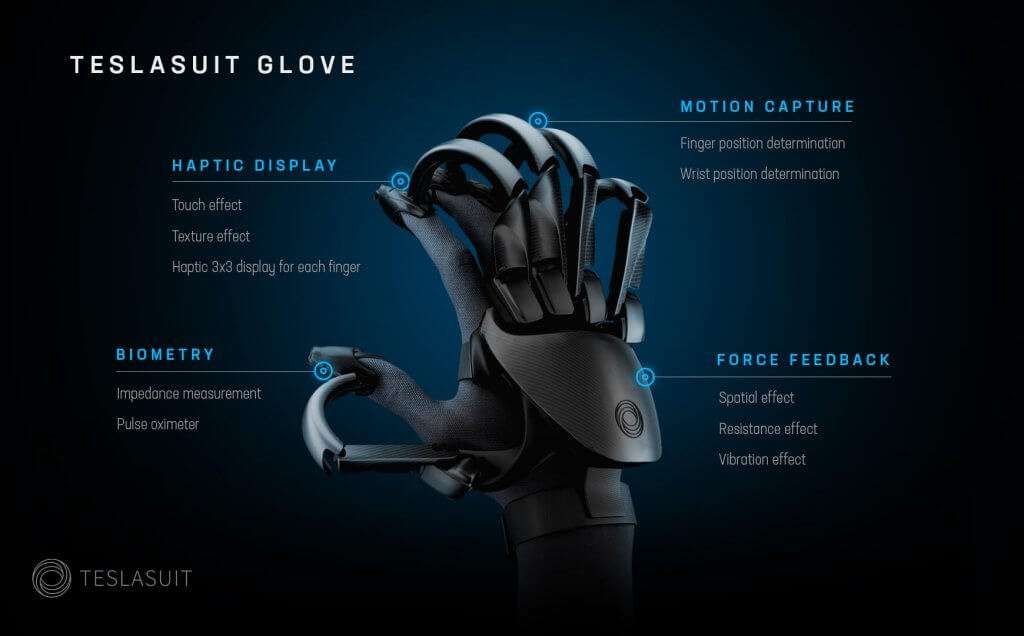 Professional gloves at 5,000 dollars
The firm also stuffed sensor gloves to determine the position of each finger as well as the wrist. The Glove also board an oximeter of pulse , which notably allows to measure the frequency heart, which will measure the reactions as the level of stress of the user while interacting with virtual objects.
These gloves are designed primarily for professional use. The manufacturer imagines applications in the remote control of robots , or in medical rehabilitation. Therefore, we should not expect to find them combined with virtual headsets for games. Teslasuit has announced a final price of around $ 5,000, and will not be offering to try them out at CES 2020, the current version still being tested. Ideally, this glove will be available in the second half of 2020.